Dear guests and friends, welcome to Gasthof Bauhof!
The Bauhof Inn
The hotel Bauhof is a family business which stands out because of the personal commitment and great dedication of its owners. It is located in the middle of the beautiful landscape of the Pustertal, above the village of Uttenheim.
Relaxing and Nature
Whoever enjoys relaxing, recreation and nature, will definitely get their money's worth, no matter which time of the year! The illuminated toboggan run is definitely worth a visit too.
Kids and Family
Whether you are taking a family holiday or want to relax on your own, the Gasthof Bauhof is always worth a visit! We would be very glad to welcome you in our hotel in Uttenheim!
We will also be pleased to serve you special meals for different occasions if you ordered in advance.
In advance, we also offer food for different occasions such as birthday celebration, christmas, first communion, confirmation, etc.
In comfortable Gasthof Bauhof expects you any time a cosy atmosphere.
With groups and table reservations we ask you for advance notification
Tel. +39 0474 597173 or by Email:
info@gasthofbauhof.com
Gasthof Bauhof team is looking forward
to your visit!
About us


Our hotel is located within the beautiful landscape of the Pustertal in South Tyrol, above the village of Uttenheim. We are a family business with adjoining agriculture. The hotel Bauhof is not only a popular tourist accommodation, but is also frequently visited by the people living in Uttenheim and the surrounding locations. The location provides a countless number of recreational and sporting activities, both in summer and in winter.
There are for example numerous hiking trails, where guests can experience the beauty of the nature. Furthermore, the Pustertal also provides a number of interesting museums - for those who like cultural experiences –as well as swimming ponds and the previously mentioned toboggan run.
Your host, the Steiner Family
There is definitely plenty of variety for everyone. In order to provide our guests with all the necessary information concerning the variety of recreational activities in our location, we would like to offer you some useful websites, where you can get informed.
Winter
www.speikboden.it (Ski runs in winter)
www.kronplatz.it (Ski runs in winter)
www.cron4.it (Swimming-pool in Reischach)
Toboggan run starting off directly in front of the hotel
Cross-country skiing in Antholz and Rein in Taufers
Our rooms
All of our rooms are equipped with a shower and a bathroom. We offer our guests single bedrooms and double bedrooms. You can also choose a room with a balcony. Every room provides a flatscreen tv, so that our guests can stay informed during their stay in our hotel.
The hotel prices are appropriate and you will enjoy our hotel service. Our guests can choose between bed and breakfast or a half-board accommodation.
For children under 12 years of age we offer a 30% price reduction.
For children under 8 years of age we offer a 50% price reduction.
For children under 3 years of age we offer a 70% price reduction.
Children under the age of 1 year do not pay anything.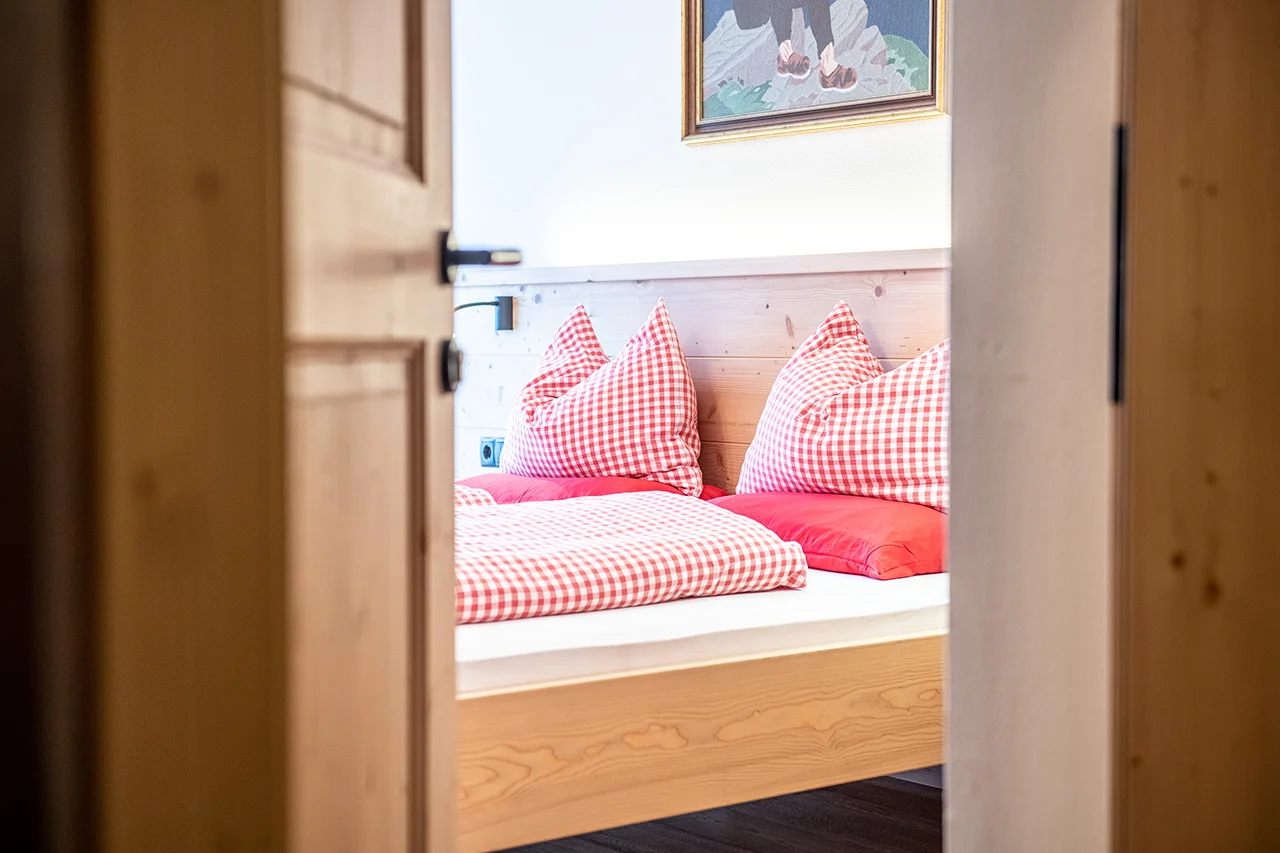 Prices
Bed and breakfast: up to 3 days 55,00 Euro – more than 3 days 45,00 Euro
Half-board accomodation: up to 3 days 70,00 Euro – more than 3 days 60,00 Euro
All prices shown are subject to a Tourist Tax* amounting to € 2,50 per person (aged 14 and over) per day, payable upon departure.
Dogs are generally allowed on request, but not in the common areas (dining room, breakfast room...).
Pet fee 8 €/day (dog)
Cancellations
Free cancellation: You can cancel free of charge until 14 days before arrival. You'll be charged the total price if you cancel in the 14 days before arrival. If you don't show up you will be charged the total price.
For the children there is a playground directly to the restaurant. It includes a swing, children's slide and a big stone the children can climb on. Also an old lift gondola serves the children as a playground or as a possibility to hide and to let find again.
Pics
Images are like the visit of the places that you know, maybe even well known, and where memories are reawakened. Even if we forget many things in our lives again, pictures are the traces of the past on the way to the present.
Gasthof Bauhof - Steiner Jasmine